Long recognized as one of Canada's bright lights on historical flutes, Toronto-born Alison Melville began her musical life by playing the recorder in a school classroom in London (UK). Her career as a soloist, chamber and orchestral musician with many ensembles has taken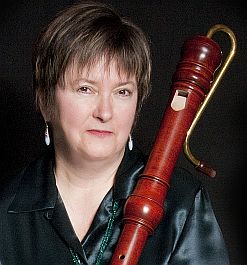 her across North America and to New Zealand, Iceland, Japan and Europe. She plays medieval, renaissance, baroque and modern recorders; renaissance, baroque and classical flutes and one-keyed piccolo; and Norwegian seljefløyte.
Besides her work with The Toronto Consort, Alison is a member of the Ensemble Polaris and is artistic director of the mixed-media Bird Project. She appears regularly with Tafelmusik Baroque Orchestra, and as a guest with other ensembles across North America.
Some memorable career moments include playing for The Tudors, The Borgias, CBC-TV's The Friendly Giant and Atom Egoyan's The Sweet Hereafter; solo shows in inner-city London (UK) junior schools; a recent recital in sunny southern Spain; and, oh yes, a summer of concerts in Ontario prisons.
Alison has been heard on CBC/Radio-Canada, BBC, RNZ, NPR and Iceland State Broadcast Service, and on over 50 CDs, including five critically acclaimed solo recordings. A professor at the Oberlin College Conservatory of Music (USA) from 1999 to 2010, she now teaches at the University of Toronto and Wilfrid Laurier University.
More info: www.alisonmelville.com
Photo © Mary Perdue.