Brady Lanier is an active performer on the viola da gamba, baroque cello and modern cello. He has appeared with numerous ensembles in the Houston area and beyond,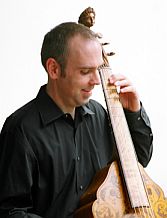 including the Houston Symphony, Houston Bach Society, Mercury Baroque, Ars Lyrica, Istanpitta (at the Texas Renaissance Festival), and Revels Houston.
He is a founding member of Quaver Viol Consort, along with Tobi & Marie Szuts and Loren Ludwig. Brady is a graduate of the Shepherd School of Music at Rice University and has continued his studies at the Baroque Academy at Amherst and the Baroque Performance Institute at Oberlin College. He directed the Consort Cooperative program at the VdGSA Conclave from 2011-12.
Brady is also an active arranger and composer, having had works performed by the Houston Symphony, the United States Air Force Orchestra, the Consort Co-Op at the 50th VdGSA Conclave (broadcast nationally on NPR), and numerous other groups. His music has been featured in three performances at Carnegie Hall.