Brazilian recorder player Cléa Galhano is an internationally renowned performer of early, contemporary and Brazilian music. Galhano has performed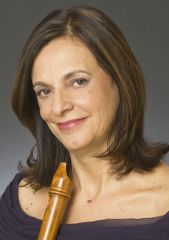 at music festivals around the world: Boston Early Music Festival, Tage Alter Music Festival (Germany), Wigmore Hall (London), Weill Hall at Carnegie Hall (New York) and Palazzo Santa Croce (Rome), always receiving acclaimed reviews. She gave her Weill Hall at Carnegie Hall debut in May 2010 and her second Weill Hall recital in December 2013 with the international Cuban guitarist Rene Izquierdo.
As an advocate of recorder music and educational initiatives, Ms. Galhano served for six years on the national board of the American Recorder Society, and is the Music Director of the Recorder Orchestra of the Midwest. She recently received the prestigious 2013 McKnight fellowship award, MSAB Cultural collaborative and MSAB Arts Initiative.
Currently, she is the Executive Artistic Director of the St. Paul Conservatory of Music and a faculty member at Macalester College. Ms. Galhano has recordings available on Dorian, Ten Thousand Lakes and Eldorado labels; she is also a National Arts Associate of music sorority Sigma Alpha Iota.