Award-winning director, international performer, and recording artist Daniel Johnson has been the artistic director of the Texas Early Music Project since its inception in 1987. Johnson has performed and toured both as a soloist and ensemble member in such groups as the New York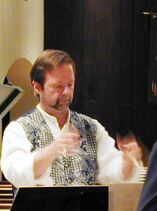 Ensemble for Early Music, Sotto Voce (San Francisco), and Musa Iberica. He can be heard on various recordings for Koch International, Foné Records (Rome), Amherst Festival Productions, and the Texas Early Music Project label.
Johnson was the director of the UT Early Music Ensemble, one of the largest and most active in the U.S., from 1986-2003. In 1998, he was awarded Early Music America's Thomas Binkley Award for university ensemble directors. He is also the recipient of the 1997 Quattelbaum Award at the College of Charleston. Johnson teaches master classes in performance practice and also serves on the faculty, staff, and the Executive Advisory Board of the Amherst Early Music Festival. He has been on the faculty of the Texas Toot since 1994.