Jan Jackson, director of Passing Measures, has been directing and performing with professional and educational Early Music ensembles in Central Texas for over 30 years. She has participated in various Early Music festivals and Renaissance faires around the country and in numerous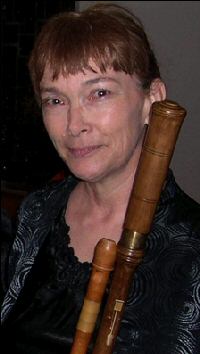 workshops, including those at Amherst College and the Professional Recorder Program at Indiana University.
Ms. Jackson has performed with the Texas Early Music Project, in addition to directing and performing with Passing Measures (medieval, renaissance, and baroque repertoire), Timely Treasures (harp/recorder duo with early music and celtic repertoire) and currently with the Worthy Waites of Whimsey.
She has served on the National Board of Directors for the American Recorder Society and on the Educational Committee for that organization. A registered Suzuki recorder instructor, she is a charter member of the American Recorder Teachers Association, was a member of its board of directors and the chair person for ARTA's Scholarship Committee. She has served as a faculty member for the Armstrong Community Music School (South Austin), and the Texas TOOT (formerly Texas Early Music Festival). She teaches in students' homes, at workshops, with the Lifetime Learning Institute, and privately at her studio, the Academie of Musick (North Central Austin).