Jennifer Carpenter's love for the recorder began while earning her Bachelor of Music in clarinet performance at the University of North Carolina at Greensboro. Her pursuit of early music studies brought her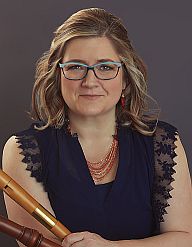 to study at the University of North Texas where she received a Master of Music degree in musicology with an emphasis in early music performance and is ABD (all but dissertation) for her PhD in the same field from UNT.
As a recorder player, Jennifer performs regularly as a soloist and in early music ensembles in both Texas and Colorado. She is a member of Parish House Baroque, Colorado Springs' early music ensemble, which performs concerts along the Front Range.
She enjoys teaching as much as performing. In addition to teaching private lessons, both in person and online, and coaching ensembles, Jennifer has been on the faculty of early music workshops in TX, CA, NM, CO, and AZ. Her enthusiasm for working with amateur recorder players has led her to serve on the Board of Directors of the American Recorder Society. Jennifer was the music director of the Dallas Recorder Society from 2009-2014 and continues to mentor and coach ARS chapters across the country. She is also the president of the Board of Directors for the Boulder-based early music ensemble Seicento Baroque Ensemble. Happily a resident of Colorado Springs, CO, she is enjoying integrating into the early music scene on the Front Range.