After studying voice with Ms. Gilda Cruz-Romo at the University of Texas in Austin, Jenifer Thyssen has turned her focus to early music, continuing her vocal study with Ms. Sylvia Gallo of Austin and stylistic coaching with Mr. Daniel Johnson, director and founder of Texas Early Music Project (TEMP).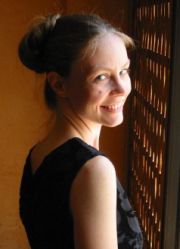 Jenifer has had the privilege of studying under such notables as Julianne Baird, Jennifer Lane, Howard Crook, and Drew Minter, leading to her particular interest and specialization in music of the Baroque period.
Jenifer was honored with an award for Best Female Classical Singer by the Austin American-Statesman's Austin Critics Table Awards 2003. Her popularity among concert-goers has afforded her a considerable reputation for thrilling and beautiful performances, earning her many opportunities to perform throughout Texas.
Jenifer has had the privilege of singing with some of the top early-music performers in the nation: Laurie Young-Stevens, violin, Saskia Coolen and Frances Blaker, recorder, Tom Zajac, multi-instrumentalist and Stanley Ritchie, violin. Jenifer also had the privilege of performing the Texas debut of the recently "rediscovered" Handel Gloria with Laurie-Young Stevens, concertmistress, who performed in the world debut of the piece.
You may hear her on The Bonny Broom and Other Scottish Ballads, Texas Early Music Project's first recording, and various other concert recordings of TEMP productions. Jenifer resides in Austin, TX with her husband Andrew and their sons.