For most of her adult life, Mary Springfels had devoted herself to the performance and teaching of early music repertoires. She earned her stripes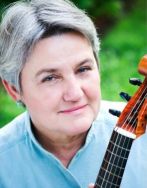 performing with many influential pioneering ensembles, including the New York Pro Musica, the Elizabethan Enterprise, concert Royal, and the Waverly consort.
For 20 years she directed the innovative Newberry Consort, and can be heard on dozens of recordings. In 2006, Mary moved to the mountains of New Mexico, where she is active in the formation of an intentional community called the Wit's End Coop. She continues to teach and perform extensively. Most recently, she has taught at the San Francisco Early Music Society, The Viola da Gamba Society of America, Amherst Early Music, and the Pinewoods Early Music Week.