Known for his stunning blend of dazzling virtuosity and colorful expressivity, Matthias Maute is recognized as one of the foremost recorder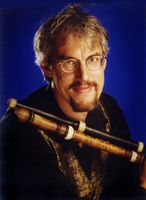 players of his generation, and has earned an international reputation for his formidable talents as a traverso player as well as a composer.
Matthias is the Artistic Director of Ensemble Caprice, for whom he has developed some highly original programmes which include his own compositions. Matthias also tours regularly in Europe and the United States with the baroque ensemble REBEL as a recorder and flute soloist.
Matthias' compositions hold an important place in the world of contemporary recorder music and are frequently heard in concerts in Europe and North America. They have been published by Amadeus (Switzerland), Carus (Germany) Moeck (Germany), Mieroprint (Germany) and Ascolta (The Netherlands).
Much in demand as a teacher at workshops in the U.S. and in Europe, Matthias has been featured at early music festivals around the world. He is a professor at McGill University in Montreal. Matthias can be heard on Vanguard Classics, ANTES Editions, ATMA Classique and Dorian Recordings.