Paul van Loey has distinguished himself as one of the top recorder players of his generation. Born in Sint- Niklaas, Belgium, he studied the recorder and baroque bassoon in the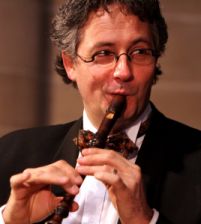 conservatories of Antwerp, Brussels, Leuven, and The Haag, where he received the highest diplomas for recorder and chamber music.
Mr. van Loey is a founding member of the Flanders Recorder Quartet, which has earned many awards and distinctions. Additionally, he has played recorder and bassoon with other notable European period instrument orchestras including Musica Antiqua Koln, La Petite Bande, Collegium Vokale, Musiciens de Louvre, Il Fondamento, Les Agremens, and others.
Mr. van Loey's performances have been broadcast on radio and television. His countless and notable performances have taken place throughout Europe as well as in South Africa, Japan, Korea, Taiwan, Singapore, South America, Mexico, and the United States. His music can be heard on more than 40 different recordings under such labels as Deutsche Grammophon, Archiv, harmonia mundi usa, EMI Classics, Opus 111, Vox Temporis, and Aeolus.
Known for his clear and patient approach to teaching, Mr. van Loey is in great demand as a presenter of workshops, master classes, and private lessons for recorder students of all ages. He currently serves on the music faculties of conservatories in both Mechelen and Bornem, Belgium.