Pedro Funes is currently the Assistant Orchestra Director at Oak Ridge High School in Conroe (TX) ISD, and Director of the Aquila di Guerra (HS Viol Ensemble). His undergraduate degree is from the University of Houston, in double bass performance.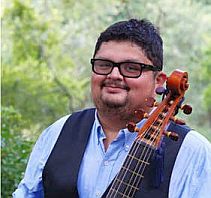 His Master's degree is in Early Music at Indiana University (Jacobs School of Music), where he studied viola da gamba and vielle with Wendy Gillespie and performed baroque bass in the IU Baroque Orchestra under Stanley Ritchie.
Pedro was the teaching assistant for the Beginner Viols at the VdGSA Conclave 2016. Pedro has performed across the state of Texas with Ars Lyrica, Texas Early Music Project, Austin Troubadours, and as Principal Bass with Austin Baroque Orchestra. Currently he is the President of Viols of Houston, President of Houston Early Music, Director of the Young Players Weekend for the VdGSA, and founding member of Les Touches.