On treble, tenor and bass violas da gamba, and their medieval ancestors, Rosamund Morley has performed with many distinguished early music ensembles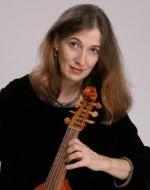 as diverse as ARTEK, The Boston Camerata, Piffaro, The Catacoustic Consort, Sequentia and Les Arts Florissants. She is a member of Parthenia, New York's premiere consort of viols, and a founding member of the Elizabethan ensemble My Lord Chamberlain's Consort. For many years she toured worldwide with the Waverly Consort and she developed an interest in contemporary music while playing with the New York Consort of Viols.
Her busy teaching schedule has included numerous national and international workshops such as Charney Manor and the Benslow Music Trust in Hitchin, UK, Triora Musica in Liguria, Italy, the Cammac Music Center in Quebec, Amherst Early Music in New England, the Port Townsend workshop in Seattle and the annual conclave of the Viola da Gamba Society of America. She directs the Viols West Workshop in San Luis Obispo, California and teaches the viol consort for the Collegium Musicum at Yale University.