Scott Horton studied lute and continuo with Nigel North at the Guildhall School of Music and Drama in London. He was a member of Texas Baroque Ensemble which toured the Netherlands and Finland, and accompanied Dutch baritone Max van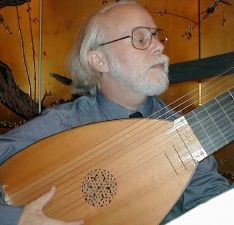 Egmond on tour in the United States.
After moving to Washington, D.C. in 1986, he was active in the field of early music, having performed with the Washington Opera, Washington Bach Consort and Maryland Handel Festival among other ensembles. He was invited back to Texas in 1989 to perform with the Houston Grand Opera and in 1992 was the featured performer at the Early Music Festival at Round Top, to which he returned in 1993, 1994 and 1996.
Mr. Horton has taught at the University of Texas, University of North Texas, University of St. Thomas and St. Mary's College of Maryland. In 1995, he relocated to Texas where he performed in various groups including Texas Baroque Ensemble, Aquinas Ensemble, Ars Lyrica, Texas Early Music Project, Texas Bach Choir and La Follia Baroque. He performed recently in productions of Orfeo, Coronation of Poppea and Ariodante of Houston Grand Opera and Dallas Opera. He is also presently on the faculty of the Armstrong Community School at the Austin Lyric Opera.