Stephanie Raby was first inspired by authentic historical performance as a girl living in England. During her undergrad years at the University of North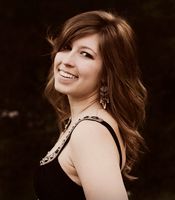 Texas, she was presented with the unique opportunity to study the field, and it was there that she learned about the viola da gamba.
Her studies as a baroque violinist with Cynthia Roberts and as gambist with Patricia Nordstrom and Allen Whear had such an impact that she went on to complete a Master's in Early Music at Indiana University's Jacobs School of Music. Throughout her time there she was privileged to study with Stanley Ritchie (violin) and Wendy Gillespie (viol), among others.
Currently Ms. Raby is an active violinist, violist, and gamba player performing with such groups as Mountainside Baroque, La Follia Austin Baroque, Texas Early Music Project, and Queen City Musicians, as well as a founding member of Les Touches Viol Consort.