In the early music world, Susan Richter's primary instruments are recorders and Renaissance double reeds: shawms and dulcians. Susan also enjoys singing in various church and early music groups.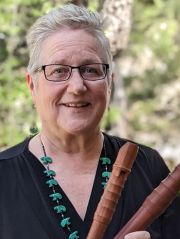 She has been a performing member of Texas Early Music Project (TEMP), St. David's (Episcopal Church, Austin) Compline Choir, and the Austin Baroque Orchestra.
Susan is on the board of TEMP, was a Board member of the ARS 2008-2012, is a music leader at Central Presbyterian Church in Austin, and is Administrator of the Texas Toot early music workshops. She enjoys tending her wild Hill Country yard, feeding and watching birds, teaching adult recorder players, and occasionally playing penny whistle duets with her husband, Win Bent. Susan is now happily retired from gainful IT employment.