Tom Beets received his master's degree in recorder at the Lemmensinstituut in Leuven (Belgium), studying with Bart Spanhove and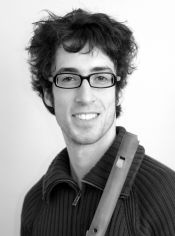 Bart Coen. He also studied for one year at the Escola Superior de Musica de Catalunya (Spain) under Pedro Memelsdorff and Jean-Pierre Canihac.
Concerts and projects have taken him all over the world, performing music ranging from Ars Subtilior to Stockhausen. As a permanent member of the Flanders Recorder Quartet since 2007, he travels the world for master classes, performances and concerts, and he has recorded five CDs with the FRQ. Their latest recording of English consort music from the Golden Age, The Dark Is My Delight, was published by Aeolus.
Tom is a teacher of recorder and ensemble at the Music Academy in Maaseik. He has published articles about flute ensemble repertoire and is an assistant researcher at the Lemmens Institute on the 18th-century music collection of Mechlin Cathedral. He is chief editor of the journal Blokfluitist. Tom is active around the world as a teacher and avid supporter of his instrument. In his practically non-existent spare time, Tom plays folk wind instruments and treble gamba.